Winter on the island is when you learn who your neighbours are. Summer brings tourist and new homebuyers, but it's in the winter when you can't get your snowplow out of the ice, or your car slides softly into a snowdrift, that you discover just what islanders are made of.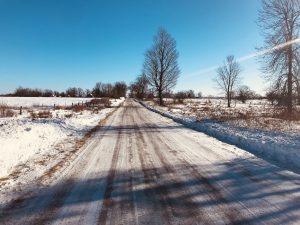 Evenings on the island are not isolating in the least. Your neighbours become your friends, and many times a week you'll see a couple navigating the drifts with their iPhone flashlights, plates of food, beer and wine balanced on palms or in totebags.
We have dogs. Dogs also introduce you to the best and worst of humanity. Living in Toronto, we never saw the kind of temperature drops that we have on Wolfe Island. One day in December, we opened our door and our dogs looked out at the blowing snow and wind and looked back up at us with their tail between their legs!
It is chilly though. And not as many mainlanders brave the winds and visit us. It is for this reason that Serendipity closes down for some weeks of the year, like a tree shedding it's leaves and starting a lovey winter snooze, we too will see you in the thaw!